ClaroNAV NaviENT ENT Navigation System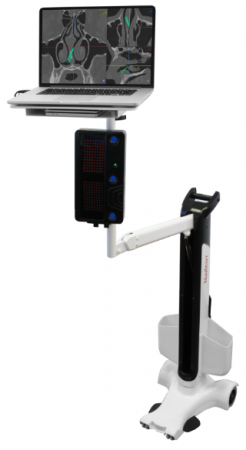 NaviENT is a computerized surgical navigation system, designed to guide endoscopic sinus and trans-nasal skull base surgery, dynamically presenting the location of the tip of a surgical instrument mapped to a corresponding location in a pre-acquired CT scan of the patient's head.
NaviENT is indicated for any medical condition in which the use of stereotactic surgery may be appropriate, and where reference to a rigid anatomical structure, such as the skull, can be identified relative to images of the anatomy.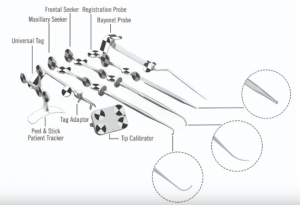 The navigation system used to assist FESS (Functional Endoscopic Sinus Surgery) and skull base surgery to assist surgeons in accurately identifying the relevant anatomical structures due to the limited endoscopic vision has been adopted very useful.
The installation of NaviENT for each surgical procedure takes only minutes and can be completed while the patient is given anesthesia or even in the middle of surgery. The data is loaded, the tape viewer is affixed to the patient's forehead, and the recording is identified by a few movements of the recording medium.
NaviENT has the most reliable and accurate tracking technology available: Optical Trilogy
Optical tracers are not affected by the presence of metal objects or environmental electromagnetic fields, unlike electromagnetic tracers. The system uniquely tracks permanent markers, which does not require maintenance or replacement. The only electronic device in NaviENT other than an optical viewer is the compact and reliable Apple Laptop. Its small folding body adapts to any environment, including a cramped room. The navigation screen visually integrates to the screen of the endoscope without the need for physical or electronic integration into the endoscope and its body.